"24 hours of inspiring insights, exciting tools, techniques and effective learning methods that will revolutionize your skills"
1. THE SYNTAX SOLOING METHOD
Learn to squeeze out amazing solos with no preparation. Get the magical skill of being able to just play and produce a winning solo on the spot.
2. THE RIFF LAYERING PROCESS
Create complex riffs easily with this painless method. Each layer is fun and simple to do, but in the process you are creating something amazing.
3. RADICAL GUITAR TECHNIQUES
It's time to have some fun exploring innovative ways of playing impressive runs and licks. This section is guaranteed to leave you dumbfounded and excited to practice!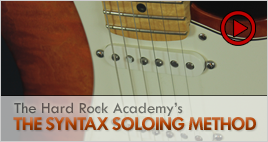 A complete set of tools and insights that will make you a master of Rock Soloing.
THE SYNTAX SOLOING METHOD
+ From Licks & Scales To Absolute Freedom
+ Fun Methodical Soloing Exercises
+ Hear The Amazing Difference After A Week
THE HARD ROCK POWER TOOLS
+ The Hard Rock Scale: Your #1 Soloing Tool
+ Enjoy Scale Control Like Never Before
+ Learn Tons Of Soloing Tools Fast
+ 50 Powerful Melodic Rock Licks Included
What you get with this section
This segment will teach you how to go from playing licks and focusing on scales, to being able to play freely and with confidence.
The Syntax Soloing Method focuses on teaching you how to "speak" guitar, using the same logic as language.
It consists of enjoyable jam track practicing routines that anyone can do. After just 7 days of using these routines you will feel and hear the difference in how you play.
It is the missing link between knowing the tools and being able to really use them.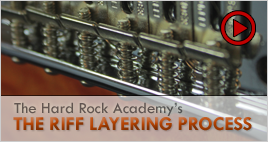 Use this effective & fast method to create awesome riffs of your own.
BUILD AWESOME RIFFS
+ Build Riffs Easily Using The Layering Process
+ Create Complex Riffs After Just 2 Weeks
+ Incredibly Simple Way Of Composing
CREATE YOUR OWN COOL ROCK TRACKS
+ How To Create Finished Tracks Easy & Fast
+ Learn To Create Drum Tracks For Your Riffs
+ Add A Groowy Bass Role Easily
+ Finish Your Work By Adding Keyboards
A never-seen-before riff building tool
You will learn how to build amazing sounding riffs easily and fast. By putting layer upon layer you build complexity without losing control.
Each layer is created using a cool system that produces unlimited ideas for you.
It is my personal guarantee that you will be composing awesome sounding riffs easily and fast after spending just two weeks on this segment.
Surprise your band members with lots of cool original riffs over the coming weeks!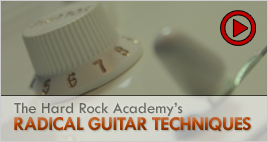 The Hard Rock Academy Radical Guitar Techniques will blow your mind and take your skills to another level.
THE SIXTH FINGER TECHNIQUE
+ Simple Tapping Technique - Radical Results
+ Learn To Produce Incredibly Fast Lines
+ Get Very Impressive Results Quickly
INTENSE HARD ROCK SHREDDING LICKS
+ Amaze Your Audience
+ From Easier To More Complex
+ Licks Containing Multiple Scales & Arpeggios
+ Easy Piece By Piece instruction
So much fun, it's almost like cheating
The Sixth Finger Technique" is a magical way of adding a finger to your left hand and getting unreal results in your playing.
This is not just a tapping thing, we're creating a new playing style that allows you to play very, very fast, and create a sound of your own at the same time.
In each of the 50 Hard Rock Shredding Licks we're going to look at what goes on from a scales, arpeggios and sequences perspective.
You will learn how to integrate many different elements into the same line or run.


24 BITING JAM TRACK RIFFS WITH TABS
Every week you get 2 new Riffs with drums, bass and keyboard to play along with. Each layer of the riff will be explained to you.
Careful video instruction including tablature is of course part of the package. You can learn each one of the riffs in the version that suits your skill level - and then move on to the next layer when you're ready.

24 STUNNING BACKING TRACKS FOR INSPIRED SOLOING
You know the feeling of playing over music that seem to help you play a great solo - Some tracks are just more inspiring than others.
Every week you will get two new tracks that will inspire you to practice and have fun using all the great tools from the program.
All tracks come with thorough explanation and tools suggestions so you won't be in doubt as to what to do with them.